S.C. Files Legal Challenge to DOJ's Denial of Voter I.D. Law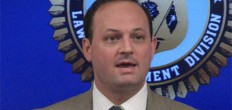 Attorney General Alan Wilson today filed a lawsuit in United State District Court against the federal government and the head of the U.S. Department of Justice (DOJ), Attorney General Eric Holder.
The DOJ has refused to allow South Carolina to enact its Voter I.D. law, claiming it does not adequately protect voters from discrimination, per the 1965 Voting Rights Act.  However, very similar laws have been upheld by the United States Supreme Court (in the case of Indiana), and even pre-cleared by the DOJ itself (in the case of Georgia).
The state's Voter I.D. law was passed in 2011, and requires voters to show photo identification.  The identification can be obtained free of charge from the S.C. Department of Motor Vehicles.
The complaint explains: "The covered voting changes in Act R54 [Voter I.D. law] do not and will not prohibit any voter in South Carolina from voting for or electing his or her preferred candidate of choice."
In fact, "South Carolina's photo identification law does not bar anyone from voting, but merely imposes on voters a responsibility to obtain an approved photo identification card and to bring it to the polls unless one of the exemptions in Section 5 of Act R54 applies."
Said Attorney General Wilson, "The DOJ has denied citizens in South Carolina protection of a law that the U.S. Supreme Court upheld in Indiana, and the DOJ itself pre-cleared for Georgia."
Citing the provisions in Section 5 of the Voter I.D. that provide voters with an ability to vote after swearing an affidavit, Wilson explained, "Nothing in this law prevents anyone from voting if they cannot immediately show a valid photo identification."
Read South Carolina's complaint:
Voter ID Complaint
# # #